Residential Locksmith in Washington, DC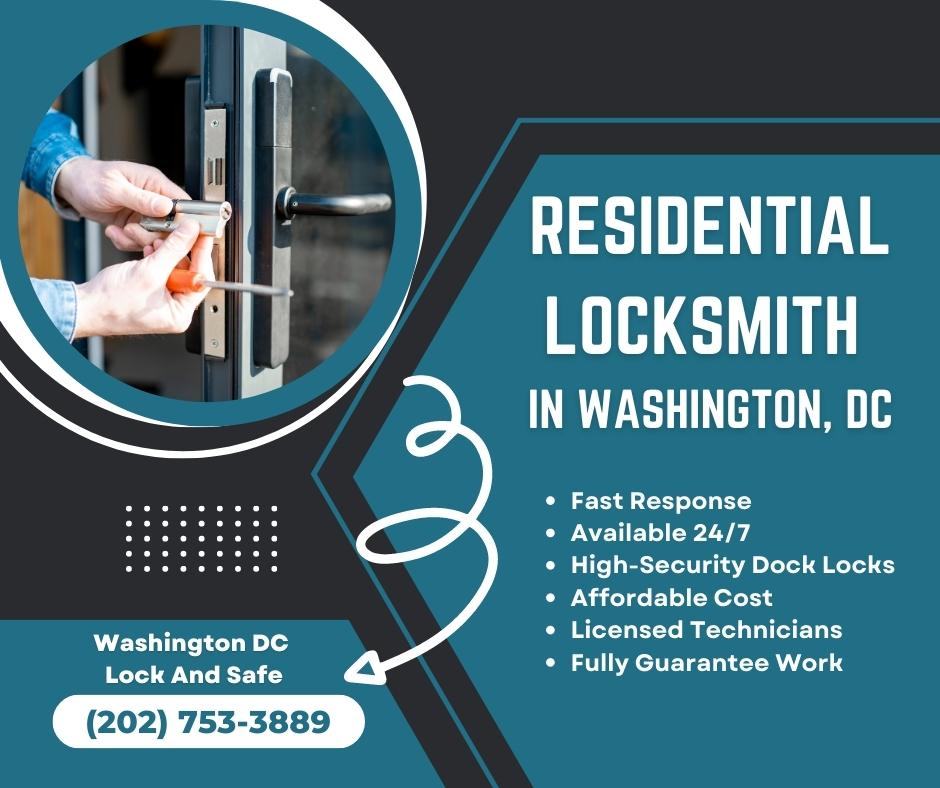 Those needing a complete locksmith service in the District of Columbia may rely on Washington DC Lock And Safe. We do everything from simple lockouts and maintenance to installing high-tech electronic security systems. Our team of experts covers every home locksmith service, from key duplication and rekeying to lock installation and maintenance.
Service and client happiness are our top priorities, and we stand by our work 100%.
Our Main Services
Lock installation
Residential lock installation services are available from Washington DC Lock and Safe. Deadbolts, doorknobs, mortise, levers, keypads, and combination locks are just a few of the many kinds of locks that our skilled technicians can install. We can also advise you on the most cost-effective and convenient lock options.
We not only install locks but also fix broken ones and rekey them.
Lock repair
DC Lock and Safe fixes lock for local DC residents. We provide many locksmith services, including repairs, rekeying, and new lock installations. In addition to deadbolts, knob and mortise locks are also among the lock types we can fix. Our emergency lockout services are available around the clock in case you ever find yourself locked out of your house or office.
If you need any help with the locks on your home, our skilled experts are ready at any time.
Key cutting
Washington DC Lock And Safe is a trusted provider of residential key-cutting services. Our experienced locksmiths have the skill and knowledge to create new keys or duplicate existing ones with precision and accuracy, ensuring the security of your home and belongings. We guarantee the longevity of your keys since we only use premium hardware and supplies. Our experienced staff can also help you choose the right type of lock for your needs and provide advice on keeping your home safe and secure.
We offer competitive prices and fast turnaround times to ensure that our customers get the service they need when they need it.
Emergency lockout services
Emergency lockout services for homes are available around the clock from Washington DC Lock And Safe. We know how stressful and annoying it can be to be locked out of your house, which is why we provide prompt, dependable service to assist you in getting back inside as quickly as possible. All sorts of locks may be opened swiftly and securely by our skilled specialists since they have received the training and education required. Washington DC Lock And Safe offer the answers you need for any domestic emergency lockout, thanks to their years of expertise in the field.
Call us immediately if you're locked out of your home and need fast, dependable assistance!
Rekeying
Washington DC Lock and Safe offers rekeying services to keep your house secure. You may rest easy knowing that no one else has access to your house by having our skilled experts rekey your locks instead of replacing them.
We make it easy and economical to rekey your home or business by providing flexible scheduling and competitive rates.
High-security locks
Washington DC Lock And Safe provides residential customers with the highest security locks. Our locks are designed to be exceptionally strong and tamper-resistant, giving you peace of mind that your home is well-protected. We offer a wide range of locks, from deadbolts to combination locks, so that you can choose the right type for your needs. Our knowledgeable technicians will be happy to help you select the best lock for your situation.
We also ensure that all our products meet the highest standards of quality and safety, so you can rest assured that your home is secure.
Safes and vault installation and repair
Washington DC Lock And Safe is the leading provider of safe and vault installation and repair services in the Washington DC area. With a staff of highly trained and experienced security professionals, we can provide superior service for all your safe and vault needs. Our technicians know all types of safes and vaults and can customize solutions for any home or business. We offer quality products from leading brands such as American Security, Gardall and Sargent & Greenleaf at competitive prices.
In addition, our team provides 24/7 emergency services to ensure that your property is secure in times of need.
Mailbox locks and keys
Mailbox locks and keys are a specialty at Washington DC Lock And Safe. Our team of experts can't be beaten when it comes to installing and maintaining secure locks and keys for your mailboxes. We guarantee that the quality of our labor and the finished goods will exceed your expectations. Lock changing, rekeying, deadbolt installation, and access control are some of the numerous security services we provide, including mailbox locks and keys.
Washington DC Lock And Safe guarantees the security of your mailboxes for the duration of your contract with them.
Master key system
Lock and Safe in Washington, DC, is pleased to provide a master key system for your convenience. To provide you with the greatest degree of versatility, we've designed a master key system that will enable you to restrict access to different regions of your building while enabling you to use a single key to unlock various doors or cabinets. Our locks are manufactured using the best components and backed by a permanent warranty. As part of our comprehensive service offering, we also provide setup, maintenance, and troubleshooting.
The master key system installed by Washington DC Lock And Safe will provide you peace of mind about the safety of your home and valuables.
Patio and sliding door locks
Washington DC Lock and Safe offer the best residential patio and sliding door locks. We specialize in high-quality locks that offer security and peace of mind. Our locks are engineered to stand up to harsh weather conditions and be tamper-resistant and easy to use. Our experienced technicians can install your lock quickly and efficiently, so you don't have to worry about any additional stress or hassle.
All our locks come with a one-year manufacturer's warranty, so you know you're getting a reliable product.
Why Choose Us
DC Lock And Safe is a trusted locksmith and security provider in Washington, DC. We offer residential locksmith services, including installation, repair, rekeying, and emergency lockout assistance. Our team comprises highly skilled, licensed technicians committed to providing excellent customer service and top-notch workmanship. We use only the highest quality locks and security systems to ensure the safety and security of your home.
With our 24/7 availability and competitive rates, you can rest assured that your residential locksmith service needs will be met quickly and efficiently.
Contact Us
When it comes to the safety of your house and loved ones, no one in Washington, DC, knows better than Residential Locksmith. This is why we are so committed to meeting the needs of DC area residents for all their locksmithing needs.
In order to contact us, please dial (202) 753-3889. Please don't hesitate to ask for help from our helpful and professional team.
We appreciate your business as a Washington DC home locksmith. We hope to be of assistance to you in the future.