Commercial Locksmith in Washington, DC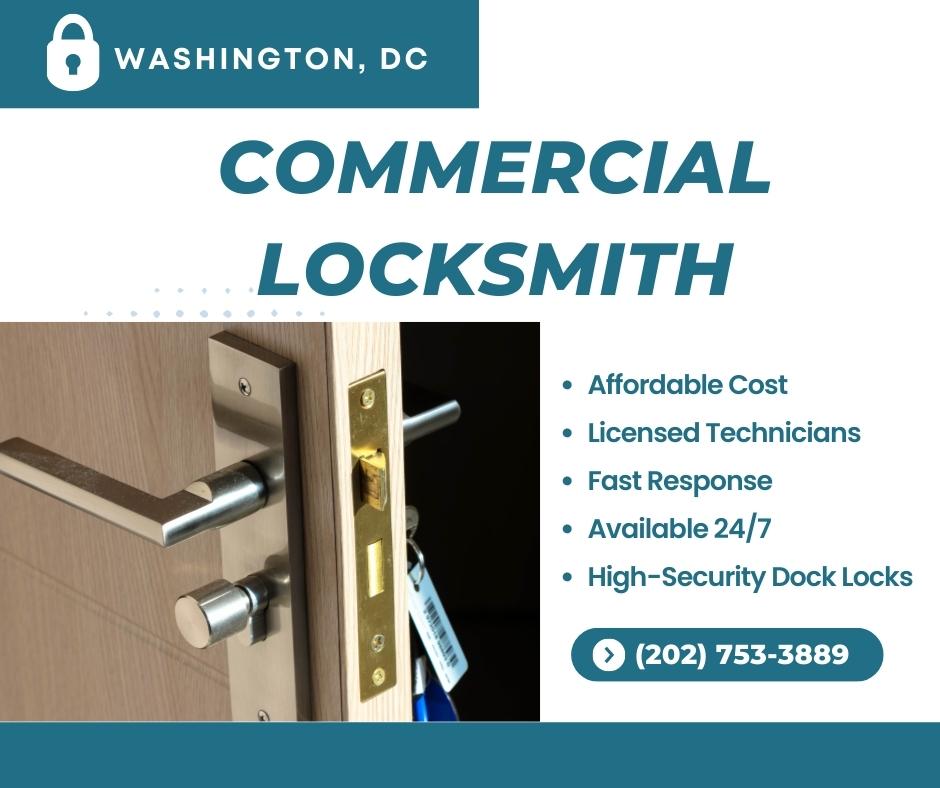 We are happy to serve you as a business locksmith in Washington, DC. We know that protecting your company's data is a top priority. That's why we provide a comprehensive menu of options tailored to the specifics of your business space. We can safeguard the protection of your property by performing a wide range of locksmith services, including installing and repairing locks and creating and replacing keys.
We can open and install safes, help you get back into your car if you've locked yourself out, and unlock your door in an emergency. We can set up a master key system for bigger companies that will allow only certain personnel access to certain parts of the facility. We also install and maintain access control systems, security cameras, and CCTV and provide lock repair services for doors and windows.
You may rely on us to protect the safety of your company.
Our Main Services
Lock installation and repair
Washington DC Lock And Safe is your go-to service for business lock installation and maintenance. If you're looking for high-quality service and craftsmanship at affordable pricing, look no further than our team of experts. To ensure your company's security, we only install the finest locks and hardware available. Whether you're looking for a keyless entry system, an access control system, or both, we'll help you locate what you need.
We promise complete satisfaction, your money back, and a full warranty for all our work.
Key duplication and replacement
DC Lock and Safe is the go-to locksmith for business key replacement and duplication. The commercial and industrial clients we serve benefit from our comprehensive suite of services, which includes master key systems, locksmithing, safe combination changes, rekeying, and access control solutions. If you ever find yourself in a lock and key situation, our licensed locksmiths are here for you around the clock and will do their best to deliver the best service possible at an affordable rate.
Safe installation and opening
Washington DC Lock And Safe specialize in installing and opening commercial safes. We offer a wide selection of safes from the world's leading manufacturers, including Amsec, Gardall, Mosler, and Sargent & Greenleaf. Our staff of seasoned experts is fully qualified to meet your every need for safety, and they have all the necessary credentials to prove it.
We also offer emergency services for safe opening and repair and access control solutions for increased security.
Automotive lockout service
Businesses in the Washington DC region may rely on the commercial car lockout service provided by Washington DC Lock and Safe in the event of an emergency. Our prompt, dependable service is something we take great pride in. Get back on the road ASAP by having us unlock your car and open the doors for you.
Auto key duplication, key cutting, transponder key programming, and other related services are also available from us.
Emergency lockout service
Washington DC Lock and Safe provides commercial, automotive lockout service for cars, trucks, vans, and other vehicles. Our team of experienced and certified locksmiths can quickly and easily unlock your vehicle with minimal damage. We offer emergency services 24/7, so you can get back on the road without delay.
We also specialize in key duplication, ignition repairs, and rekeying services. Contact Washington DC Lock and Safe today for all your automotive security needs!
Master key system creation
With the help of our experienced technicians, we can create custom master key systems for business owners to enhance their security and access control. Our technicians are trained in using the latest locksmithing technologies, such as electronic access control systems, to create secure and reliable master key systems.
We also offer lock rekeying services, so you can be sure that your master key system remains secure.
High-security lock installation
Locks of all kinds, from the traditional to the cutting-edge electronic, may be expertly installed by our team of certified professionals. Commercial-grade locks for doors, windows, safes and other entryways are nothing new, and we have significant expertise installing them. In addition to fixing and maintaining locks, our staff can also rekey them for you.
All of our services are offered at reasonable prices and completed quickly.
Door and window lock repair
We are a full-service locksmith company that provides commercial door and window lock repair services in Washington, DC. We offer various services, including lock repair, installation, rekeying, and replacement for all commercial door and window locks. Our skilled experts have seen it all and know what to do to fix your problem. We have the latest equipment and technology to ensure that all repairs are done correctly and safely.
We also offer emergency services so that you can get your door and window locks repaired as soon as possible.
CCTV and security camera installation
Washington DC Lock And Safe offer commercial CCTV and security camera installation services for businesses of all sizes. Our knowledgeable specialists will work with you to determine your specific requirements and install the system with as little interruption to your company operations as possible.
We also provide maintenance and repair services to keep your cameras up and to run.
Access control system installation and maintenance.
Washington DC Lock And Safe is a professional locksmith company specializing in installing and maintaining commercial access control systems. We have years of experience providing reliable, secure solutions for businesses of all sizes. Professional installation, maintenance, and repair services are available from our trained staff.
Lockout assistance, key duplication, and other locksmith services are also available from us.
Why Choose Us
You should choose a reliable locksmith to ensure the safety of your business. You should choose our commercial locksmith service in Washington, DC. We have been serving the area for many years and have developed a reputation for providing high-quality services at fair prices.
Our team of skilled and experienced locksmiths is all licensed, bonded, and insured, so you can feel confident that your property is in good hands. We use the latest tools and techniques to ensure that your locks and security systems are installed and maintained to the highest standards.
One thing that sets us apart is our commitment to customer service. We understand that the security of your business is of the utmost importance, and we will work with you to develop a customized security plan that meets your unique needs. Whether you need a simple lock repair or a more complex security system installed, we are here to help.
We also offer 24/7 emergency lockout service, so you can rest easy knowing that we are always available to help you in case of an emergency. We offer quick response times and competitive pricing, so you don't have to break the bank to protect your business.
In summary, choosing our commercial locksmith service in Washington, DC, means working with a team of skilled and experienced locksmiths dedicated to providing high-quality service and customer satisfaction. We take pride in keeping your business safe and secure, and we're here to help you with all your locksmithing needs.
Contact Us
If you're in need of a commercial locksmith in Washington, DC, don't hesitate to contact us. Our team of skilled and experienced locksmiths is here to help you with all your commercial locksmith needs.
In case of an emergency lockout or urgent matter, please call our emergency line at(202) 753-3889, and our team will be there as soon as possible to assist you.
We're looking forward to hearing from you and helping you with all your commercial locksmith needs in Washington, DC.